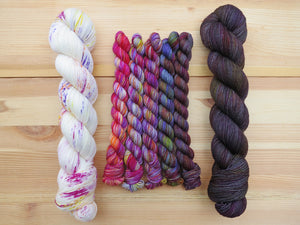 The Moonshadow - Ocean Moon MKAL Yarn Kit consists of colours from my Scream Your T!ts Off! Festive Yarn Kit (a continuation of my original Tits Out Collective colourway, Much Ado About Knockers).
This kit is perfect for the Ocean Moon MKAL by Ambah O'Brien, using one full skein of Tough Stocking as C1, five Tough Stocking Mini Skeins for C2-A to C2-E, and the remaining full skein as C3 (see pattern for more details).
In keeping with the original TOC fundraising idea, $5 from each Moonshadow Yarn Kit sold will be donated to Fitted For Work, a not-for-profit that helps women experiencing disadvantage to get work, keep work and navigate their world of work.
What's the Tits Out Collective (2018)? Read all about it here.
Moonshadow - Ocean Moon MKAL Yarn Kit details
Tough Stocking: 75% superwash non-mulesed merino, 25% nylon
Contains one 100g skein each of Titillation (C3, left) and Big Bazookas (C1, right); and five 20g mini-skeins,

one each of (L-R): Much Ado About Knockers, Sweater Puppies, Lovely Pair Of Coconuts, Over The Shoulder Boulder Holder, and Filthy Pillows

100g/425m/464yd; 20g/85m/92yd; total Kit is 300g/1275m/1392yd
Includes one Soak 5ml sample (random scent selected)
Gentle machine wash in cool water although hand washing is always recommended. Air dry flat in shade
This yarn kit was originally designed for the Ocean Moon MKAL by Ambah O'Brien but can be used for anything your heart desires. There is enough yarn to make a large sized shawl.
Patterns are not included with this Yarn Kit, however if you are interested in pattern ideas please check out our Knitting Patterns page.
Tough Stocking is our most popular yarn base. It is the perfect yarn for any project from socks, mittens, hats and gloves to shawls, garments and baby clothes. Merino for warmth and elasticity, nylon for strength. Moderate twist means good stitch definition.

Hand dyed yarn is a work of art - no two skeins are the same. We recommend that you order enough yarn to complete your project, and that you alternate skeins every couple of rows to avoid obvious colour differences.