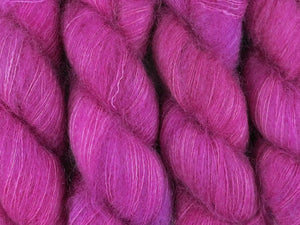 Lilly Pilly is bright semi-solid cool pink with hints of mauve pink, cerise, magenta and maroon.
Kid Glove Lace
70% superfine kid mohair, 30% silk
50g/420m/459yd
Hand wash only. This yarn will felt if washed in hot water and/or agitated. Air dry flat in shade
Kid Glove Lace is a fun versatile yarn for your crafting needs. Superfine kid mohair provides soft warmth and a fluffy halo, whilst the shine of the silk peeps through and lends strength to this yarn. Use a single strand to produce cobweb-like lacework, or hold together with itself or other yarns to produce a thicker fabric with a luxurious soft halo.
Hand dyed yarn is a work of art - no two skeins are the same. We recommend that you order enough yarn to complete your project, and that you alternate skeins every couple of rows to avoid obvious colour differences.