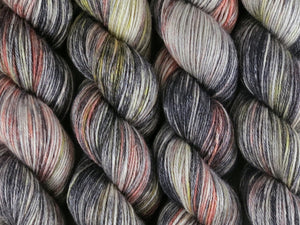 Urban Sprawl is variegated black, charcoal, silver grey and white with flashes of bright to golden yellow and paprika.
Silk Stocking
50% superwash non-mulesed merino, 50% silk
100g/400m/438yd
Gentle machine wash in cool water although hand washing is always recommended. Air dry flat in shade
Silk Stocking is for those times when you want some drape and shine in your life. Perfect for shawls and summery tops, this yarn is also good for smaller accessories. Silky soft to work with, merino wool provides warmth and elasticity whilst the silk provides strength, shine and drape. Moderate twist means good stitch definition.

Hand dyed yarn is a work of art - no two skeins are the same. We recommend that you order enough yarn to complete your project, and that you alternate skeins every couple of rows to avoid obvious colour differences.